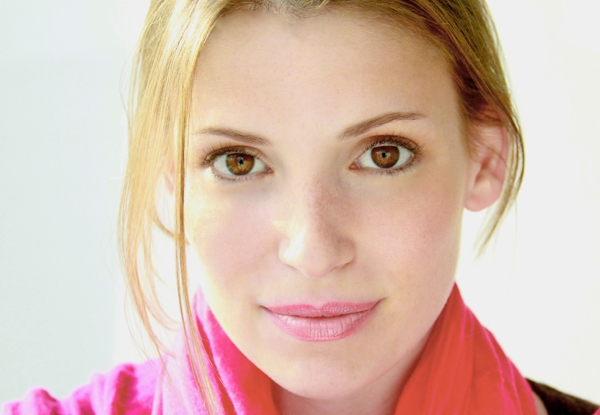 Julia has read audiobooks across all ages and genres. She performs using "equal parts analysis, instinct, and emotion."
Unlike many children, narrator Julia Whelan got energized during her parents' bedtime read-alouds. "An hour in, my father would start reading from The New Yorker or The Atlantic Monthly, so I'd go to sleep," she says.
Her parents read aloud constantly during her growing up in a small, isolated town. "I think they saw that as soon as I could read, I could start expanding." And expand she did! At first, she memorized books as if she were reading, and then she started writing so young that she had to dictate her first play to a babysitter.
She also showed evidence of her future in narration. "I'd read aloud a passage in an exciting book, and that passage would become a page, and that page would become a chapter, and I'd keep going. Books have always been a part of my life."
As an actor and a writer, books were her first introduction to character development. Whelan's love of literature continued during college, where she majored in English and creative writing. But until she began to narrate, she says, "I hadn't read anything that was written in the last hundred years." She entered the audio field at a "serendipitous time" when there were a lot of young adult novels being published and not that many voices for these new recordings. So for Whelan, narration became a sort of internship with "stunningly bright authors" who inspired her writing as she viewed how their books came together.
Whelan, who has read audiobooks across all ages and genres, generally performs using "equal parts analysis, instinct, and emotion." But her first and foremost thought is always to serve the author. "The more input I have, the better."
Her commitment is clear in how she speaks of these experiences. For example, she spoke with author Stacey Jay before recording PRINCESS OF THORNS and learned that Jay is also an actor. "We discussed accents, voices, and giving the book a feel of the British Isles."
She admits to having a girl-crush on Printz Award-winning author Jandy Nelson. "Her books always make me cry, sometimes just because of the beauty of her prose." Whelan was more affected than she thought she'd be when narrating GIRL AT WAR by deaf author Sarah Novic. "Novic was very excited about the recording, and I found the experience especially poignant and bittersweet because she will never hear it."
Whelan loves the luxury of audio listening on long drives. Most recently she enjoyed Cassandra Campbell's recording of Julie Holland's MOODY BITCHES. But she doesn't listen as often as she'd like. It's not just that reading, writing, and performing involve too many narratives. This successful narrator is always in the booth, recording books for others to enjoy.
 [published in AudioFile, AUGUST/SEPTEMBER 2015]