I always look forward to my articles coming out in the NoveList Newsletter. Kathy Stewart is a thoughtful insightful editor and I love to read the take of all her contributors.  I also love how they format my work…witness the article I wrote below!
*This article originally appeared in the May 2014 issue of NoveList's Kids & Books newsletter, and can also be read at the NoveList newsletter blog.*
---
Adult readers may give authors the benefit of the doubt, waiting out slow starts and overlooking overwritten sections. Younger readers? Not so much. They demand unique characters, plots that move quickly, dialogue that's authentic, imagery that's spot on and stories that linger after the covers close. Reluctant readers are even harsher critics. A writer who pleases them is remarkable indeed. Below find facets and examples of choices that will keep more reticent readers rapt.
"Hook You" Beginnings
Slow starts are deadly for reluctant readers. In contrast, a book that begins with a dramatic scene is sure to grab them. The best books follow through on the initial promise.
Take for example, Matt de la Peña's The Living (Delacorte, 2013, ages 13 and up). It opens as Shy Espinoza, an employee of a cruise line headed to Hawaii, has a strange conversation with a passenger. As Shy wonders about the passenger's "aggressive comb-over," the man climbs over the deck railing and, despite Shy's efforts to stop and save him, the man drowns. A slew of dramatic plots and subplots follow. On the next cruise, Shy is spied on by a mysterious man, and the family he's working to support catches a deadly virus. How could things get worse? How about a tsunami that sinks the ship? The book gains even more steam as it combines mystery, adventure, and suspense. The hero's feelings are so genuine, his actions so believable, that the book is not a conglomeration of wild events, but a thrilling journey.
Suspense and Tension
There's nothing that propels readers through a book faster than tension and one of the leading causes of that is suspense.
Marcus Sedgwick's She is Not Invisible (Roaring Brook, 2014, ages 12 and up) is tense from the start as 16-old Laureth Peak kidnaps her seven-old-brother Benjamin. This act is based on necessity.  Laureth is blind and needs her sighted brother to help her find her missing father. Her mother doesn't seem concerned about his absence, but Laureth's upset grows when she's sent emails by someone who has located her father's "black book" somewhere in New York and the scanned pages Benjamin reads aloud make her worry about his state of mind as well as his whereabouts. Ongoing mysteries, fast pacing and a plethora of problems make this a gripping read from beginning to end. It's not just a superficial chase; there are questions about prejudice, disability, and the nature of caring.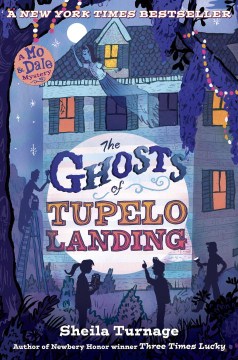 Mystery
Who's done it? Why? Mysteries are made of questions that motivate readers.
There are those and so much more in Sheila Turnage's The Ghosts of Tupelo Landing (Penguin, 2014, ages 9-12). Turnage's sequel to Newbery Honor-winning Three Times Lucky stars the engaging Mo LoBeau, who still wishes to discover the true story of her birth, but clearly has her hands full. Miss Lacy, the nicest old person in town, has bought an inn that can't be renovated because of troubles caused by its resident ghost. Mo determines to interview the ghost, thereby solving the ghost's mysterious death, ending the inn's haunting, and acing her history report. Turnage remarkably weaves the main mystery and perplexing subplots into a story that celebrates vivid writing, quirky characters, and humor.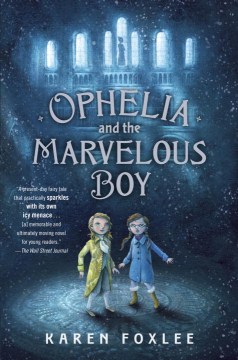 Magic
Magic weaves a spell on reluctant readers and before they realize it, they've been enchanted by a story.
Karen Foxlee's Ophelia and the Marvelous Boy (Knopf, 2014, ages 8-10) is a great example of this kind of writing wizardry. The story begins with a once-upon-a-time tone as Ophelia's father takes a job in a rambling museum in a city of constant snows. Ophelia, at 11, is robed in the sadness of her mother's recent death. She sees herself as awkward, asthmatic, and scientific in her approach to the world, unlike her horror story-writing mother. Ophelia must suspend her rational thinking and change her self-concept when she meets the Marvelous Boy, who has been imprisoned by the Snow Queen for 300 years. From behind a locked door, he turns Ophelia into an unwilling partner in saving the world. Ophelia struggles with magical snow leopards, haunted conquistadors, ghost children, and more before she becomes the heroine she never believed she could be.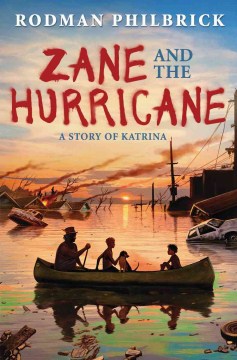 Non-stop action
Action stories keep readers on edge as one dramatic event is rapidly followed by the next.
Action starts almost immediately in Rodman Philbrick's Zane and the Hurricane: A Story of Katrina (Blue Sky Press, 2014, ages 11 and up). Twelve-year-old Zane Dupree and Bandit, the Wonder Dog, journey from New Hampshire, where "the sky is blue and clear" to New Orleans, where "everything smells kind of stinky and moldy and wet." He's just beginning to adjust to staying with Grammy, a relative he's never met and whose skin is "like the skin on milky hot chocolate when you blow across the top," when Hurricane Katrina strikes. Philbrick doesn't hold back the horrific in telling the story of a young boy who survives the terrible storm with no resources, as so many did. Zane faces hunger, heat, rising waters, racism, gunfire, floating dead bodies, and poisonous snakes. The story has the driving force of gale winds, one adventure leading to the next as Zane teams up with Tru, a local musician, and Malvina, the spunky heroine. This disturbing realistic adventure is balanced by their acts of caring and courage.
Situations that stir readers
Characters in a tough spot help reticent readers cheer for a happy resolution.
Lauren Oliver's Panic (Harper, ages 13 and up) pairs a poor town with bored high school grads psyched for summer's excitement, a sure set-up for drama. Add a high-stakes, life-or-death game of dares that will pay out $67,000 to the winner. Mix in four needy protagonists and you've got a recipe for a plot that's on fire. Alternate chapters reveal the heroes' tormented past and roller-coaster present. This fast-paced story is seasoned by themes of friendship and betrayal, survival and courage, heroism and secrets.
Graphic Novels
Often children reluctant to take on traditional prose believe that pictures are worth 1000 words.
This is especially true when humor presides as it does in Stephan Pastis' Beginning Pearls (Andrews McMeel, 2013, ages 13 and up). The book is divided among four hilarious characters, familiar to "Pearls Before Swine" comic strip followers. Self-centered Rat begins by complaining about his few pages of introduction, then recommends reading only the first section (his) and writing the editors who are "pinheads, nitwits, blockheads, imbeciles, ninnies and nincompoops" to make sure the next book stars him alone. Sarcasm and irreverence rule as the wacky cast and colorful art provoke laughter.
Nonfiction
While fiction requires a strong sense of flow, a nonfiction (true) story is constructed in a way that allows for pauses and stop-and-go reading. (While one can certainly stop reading a work of fiction, often it takes more wherewithal and backtracking to put oneself back in the story's momentum.)
Sy Montgomery is a science writer who has a strong sense of story. Her newest book, part of the Scientists in the Field series, is Chasing Cheetahs: The Race to Save Africa's Fastest Cats (Houghton, 2014, ages 9 and up). It takes her to the Cheetah Conservation Fund's African headquarters in Namibia where Laurie Marker and her team work to save cheetahs from extinction. The readability of this book is increased by Nic Bishop's colorful, evocative photographs.
Strong Emotions
Amp up feelings and you ramp up reading desire.
Laurie Halse Anderson's The Impossible Knife of Memory (Viking, 2014, ages 13 and up) certainly does this! Hayley Kincaid has traveled with her father Andy for five years in an 18-wheeler as they deal with the PTSD he's had since returning from the war in Afghanistan. When her father decides it's time to settle down and  they return to the family home, Haley's reluctant to submit to high school life "where the zombification process becomes deadly," cuts herself off from the stepmother who's deserted her, shies away from possible friends, avoids growing feelings for classmate Finn, and has a growing sense of fear for her father. Anderson's dialogue ranges from Hayley's clever, carefree flirting to her heart-breaking worried guardedness.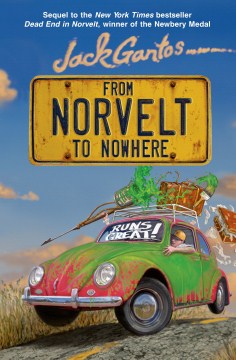 Humor
Nothing keeps and holds readers more than humor. A book that lets readers laugh all the way through keeps them anticipating the next comic scene, the next funny comeback.
And no one has a knack for humor quite like Jack Gantos, a fact he proves in From Norvelt to Nowhere (FSG, 2013, ages 10-13), the sequel to his Newbery Award-winning Dead End in Norvelt (FSG, 2011). In his latest book, Gantos pairs the two funniest characters from his first book, 12-year-old Jack and his feisty, eccentric, elderly neighbor, Miss Volker. The book begins as Jack's parents decide he should accompany Miss Volker to pay tribute to the recently deceased Eleanor Roosevelt. The trip sounds innocent enough, but soon circumstances get out of hand and before he knows it, Jack is driving a battered Volkswagen and avoiding mayhem as Miss Volker drags him into a mystery. This road trip has a host of humor — slapstick, farce, mix-ups, wit, repartee, and one-liners.
While humor, hooks, fast pacing, tension, situation, and suspense all hold promise, adults need also to feed a reluctant reader's interests in terms of subjects and genres. Science fiction tends to capture many reluctant readers, as do adventure-driven stories. Many reticent readers have surprised adults when they read a book far above their reading levels just because they can't get enough of books that feature, for example, fast-moving vehicles.